As an Amazon Associate we earn from qualifying purchases.
There comes a point in any man's (or woman's) life where he has to start using a nose hair trimmer. We know, you don't want to. Well, neither do we, but it happens to all of us at some point in our life. You just have to accept it, and invest in the best nose hair trimmer that you can afford. If you buy right, you won't need to spend more than a few minutes every few weeks trimming down your nose hair. Sound good?
Table of Best Nose Hair Trimmers
We know what you're thinking. Why does this even happen? Well, it's all science's fault, basically. As you get older, you become more exposed to testosterone. And with testosterone comes what? You guessed it, hair growth. And unfortunately for some of us, that hair growth isn't experienced on the top of your head. No, it's in those unwanted areas where you really don't want you hair to grow.
Whether you've just realised that you need to start whittling away those pesky hairs, or you've been dealing with your nose hair for quite some time. We're here to help you find the very best nose hair trimmer. In this article, we'll compare all the different aspects of each nose hair trimmer. Then, we'll carefully give you a pretty in depth review of each trimmer, listing its pros and cons. They're probably the best nose hair trimmer reviews around (okay, they're the only best manual nose trimmer reviews around, but whatever!).
Top Nose Hair Trimmers
Groom Mate Platinum XL Nose & Ear Hair Trimmer
No products found.
The Groom Mate is a fantastic idea that eradicates the need for a battery powered nose hair trimmer. You use the Groom Mate by just twisting it around in your nose, and it will gradually trim the nose hair away with ease. We are big fans of the Groom Mate and the patented design that the creators made.
It is made of stainless steel, so you don't have to worry about the quality of the design and whether it will last you a long time. It is made very carefully and is quite solid, so it is probably going to last you far longer than any of the other nose hair trimmers that we have listed. The fact that it doesn't need batteries is great as well, meaning that you do not need to worry about the battery of the Groom Mate deceasing to work. The Groom Mate is a great option for anyone looking for a long lasting and reliable nose hair trimmer.
Pros
I hate battery operated trimmers in general, so it's important for me to find something that I don't need to worry about charging before I use it.
It'll last you a while, so you likely won't have to buy another nose hair trimmer for a long time to come.
Cons
It's not electric, so this might mean that this nose hair trimmer isn't the best option for you if that's your preference.
Our Verdict
If you want a nose hair trimmer that doesn't use batteries, then this is a great option for you. I prefer to use nose hair trimmers that don't use batteries in general.
Kedsum Pro
Beauty Collection Korea
Made in Korea premium Nose hair trimmer for men & women, Manual nose and ear hair removal clippers
Made in Korea by the world-class reputed Korean steel making and fine metal industry, BEAUTY Nose hair trimmer has represented the domestic market and is being sold worldwide under a luxury EU brand.
The stainless steel design is stylish and long-lasting. Costly 'free machining steel' processing is employed to enhance durability and cutting force.
Safe & painless: The cutting rotary blades never come in contact with skin. Your hairs are gently trimmed, not pulled unlike copycat products.
These are undoubtedly the best manual nose hair trimmers available right now – but there isn't a lot of selection. Here's a few electric nose hair trimmers that we liked, too.
Creation Springs Electra-Trim Nose Hair Trimmer
The Electra-Trim is one of the best nose hair trimmers if you are looking for something that is quick and simple. It's possibly the fastest working nose hair trimmer on the list, as within 10 or 20 seconds you will have trimmed most of the hairs around your nostril. It works fast, but how closely does this Electra-Trim cut?
Pretty darn close, it would seem. Perhaps not as close as some of the other models in the list, though. The plastic casing of the Electra-Trim is actually made out of recycled plastic, which makes it a fantastic option for those concerned with helping the environment.
It comes with a really handy base for storing your Electra-Trim, as well as a cleaning brush. Many of the other nose hair trimmers in the list do not come with a cleaning brush, so this is actually quite a luxury! It isn't necessary the majority of the time, as it doesn't get clogged up very easily. Though it will come in handy if you are using it for a while. The Electra-Trim would be a great addition to any bathroom.
Pros
 You don't have to worry about this nose hair trimmer breaking, as they offer a solid warranty with their products.
 It's an efficient model that works well. It's nothing special, but it gets the job done.
 The battery life is good, so you won't need to keep replacing it all the time.
Cons
 The battery part of this nose hair trimmer isn't as high quality as the rest of it. It's not going to break anytime soon, but I still think this part could be improved.
Our Verdict
If you need an easy to use nose hair trimmer, then this one would be a good option for you.
HYLOON 3 in 1 Waterproof Stainless Steel Nose and Hair Trimmer
One of the greatest things about the Hyloon is that you can use it whilst you're in the shower. You can leave it in the shower and use it as and when you need it. By leaving it in the shower, you're unlikely to lose it or forget to trim your nose hair. It also makes it super easy for you to trim your nose and clean the trimmer as you go.
The Hyloon comes with several difference interchangeable heads. These are suitable for your mustache, ears, sideburns and even for lining your eyebrows (if you so choose to do so!). Again, whilst you might want to do this all in front of a mirror, it's a great advantage to be able to do this in the shower. It's nice not to have to worry about cleaning up after yourself – especially if you're a guy and your other half doesn't stop moaning about you leaving hairs everywhere!
Another useful addition that you will get with the Hyloon is the LED light that is situated on the top of the nose hair trimmer. This is super handy for getting those tough spots in your nostril that you cannot see. The Hyloon nose hair trimmer is a decent investment if you're looking for a long lasting trimmer.
Pros
 If you're a frequent traveller, then it just makes sense to get a 3 in 1 nose hair trimmer that also trebles up as an ear trimmer and a beard trimmer, too.
 You get a 12 month guarantee with this nose hair trimmer, which should alleviate any of your concerns about whether it's going to break after using it.
 It's very quiet, so you can rest assured you won't wake your partner up whilst using it.
Cons
You might prefer a rechargeable nose hair trimmer, in which case this one isn't a good option for you.
Conclusion
Nose hair trimmers are a dime a dozen, but it's important to try and get a good quality one. This one does everything, so you can use it for your ears and beard, too.
Honourable Mentions
Panasonic 
ER-GN30-K 

Wet and Dry
Panasonic ER-GN30-K Nose Ear Hair Trimmer
Innovative dual edge blades: Panasonic nose hair trimmer for men comfortably removes nose, ear and unwanted facial hair plus details beards and eyebrows with dual edge blades
Clean and precision trimming: Curved, hypoallergenic, stainless steel blades match the contour of your nostrils to trim the hair safely and precisely, without irritating skin or pulling hairs
Wet/dry convenience: Fully waterproof men's personal groomer is made for nose and ear trimming convenience, safely use dry anytime or in the shower
If you're looking for a budget friendly option, then this Panasonic ER-GN30-K is certainly the best nose hair trimmer for you. There aren't many other nose hair trimmers on the market that can match the Panasonic in terms of price for quality.
Panasonic are experts in the trimmer and shaver markets, as you can see from any of the other reviews on our site. By creating this nose hair trimmer, they have made a nice addition to anyone wanting to purchase a full panasonic set. They have many other 'Wet and Dry' options in their market which are suitable for trimming in both wet and dry circumstances. In fact with the Panasonic range, they often work better with wet and matted hair than dry hair.
This nose hair trimmer might not be as higher quality as some of the other trimmers in our list. It is certainly the best option for those looking for a cheap and cheerful nose hair trimmer.
Pros
The Panasonic ER-GN30-K is a good choice for someone who is looking for a simple nose hair trimmer that really works.
Honestly, there isn't really too much to say about the Panasonic. It's a simple option that works.
Cons
It's not great quality, so don't expect it to last a lifetime.
Our Verdict
A good nose hair trimmer that gets the job done quickly and easily.
Philips Norelco Multigroom Series 3100
Philips Norelco Multigroom 5100 Grooming Kit - 18 Length Settings QG3364/49
7 tools for all-in-one face and head styling: full-size metal guard trimmer, hair clipping comb, beard comb, stubble comb, mini foil shaver, detail trimmer and nose trimmer.
Chromium steel self-sharpening blades ensures long-lasting performance, while rounded blade tips and combs prevent skin irritation.
18 built-in length settings.Use the trimmer to create different hair and beard styles; the turbo power helps you trim through thick hair evenly and gently.
We decided to include the Philips Norelco Multigroom Series 3100 due to its popularity and the amount of positive reviews it has received. It's no secret that here at Balding Life, we are massive fans of the Norelco series. If you are looking for the highest quality shaving equipment, then you could stick with the Norelco for all your needs and you would be extremely happy.
The Norelco Multigroom comes with lots of different attachments for any use, including of course, a fantastic nose hair trimmer. Along with the nose hair trimmer, it also comes with a full trimmer and a detail trimmer. This means that it is designed to be used on your head, your beard and your nose without any issue. All you need to do is attach the separate the different attachments onto the head of the Multigroom and you can use it for each different purpose.
It is also 100% waterproof, so it really is 'multi-use'. You can pretty much use the Multigroom for your entire body, which makes this the best option for somebody travelling or always on the go. If you're looking for something that can do everything, then the Multigroom is the best nose hair trimmer for you.
Pros
I love Philips Norelco products, and I've used them extensively in the past. This nose hair trimmer is no different and is a great option if you're looking for a cheap trimmer.
To me, it's pretty important that a nose hair trimmer is waterproof as sometimes I'll do all my grooming whilst in the shower.
Cons
You can use the Norelco 3100 with comfort that it isn't going to break, though I wish it had a little more battery life.
Our Verdict
The 3100 is a good option if you want a basic nose hair trimmer that you can be sure won't let you down.
Fancii Professional Nose & Ear Hair Trimmer
The Fancii Professional has a pretty great vacuum system. This means it will suck up the majority of your nose hairs whilst you are trimming, which is great. It makes for much less cleaning after you are finished trimming your nose.
It has an LED light so you can reach hairs that you wouldn't usually be able to see and trim them. This comes in super handy even though you wouldn't expect to use the LED light, you will find that you do. Maybe this is just because you have the option, but either way it is a useful extra to have with the nose hair trimmer.
If you are concerned with what your nose hair trimmer looks like, then the Fancii professional is a good choice. It comes with a nice stand to situate your nose hair trimmer on and comes in a subtle metal color. We think it's one of the most attractive nose hair trimmers around, but I guess we'll let you be the judge of that!
Pros
The Fancii has a vacuum system that sucks up all of the hairs that you shave as you going along. This saves any post shave cleaning which you might have to do.
The LED light makes it a lot easier to clean the depths of your nose that you might not be able to reach normally.
Cons
It's nowhere near as good quality as some of the other nose hair trimmers in the list. You could use it as a short term option, but it might not be the best choice for a long term nose hair trimmer.
Our Verdict
If you want a cheap nose hair trimmer, then go for this one from Fancii.
Wahl Ear, Nose and Brow Lighted Trimmer
Sale
Wahl Lighted Battery Nose Hair Trimmer for Men & Women. Painless, Easy to See Nose, Ear, and Eyebrow Trimming with Built in Light, Battery Included. – Model 3023283
Multi-Purpose Trimmer – Our precision detailer attachment head painlessly & efficiently removes unwanted hairs; rotary attachment head for painlessly removing unwanted nose & ear hairs, never miss a...
Cordless Convenience – Use at home, in the bathroom, or during travel; multi-scene trimmer is compact & portable; Wahl ear, nose, & brow is lightweight & allows for easy cleaning after use
Hygienic Grooming – With easily detachable heads, hygienic grooming is easier than ever with one head for your nose & another for everything else; rotary ear & nose trimmer head provides a hygienic...
The Wahl Ear, Nose and Brow trimmer is a pretty solid choice. If you're looking for a standard nose hair trimmer that will do the job competently and quickly, this is it. Like some of the other trimmers in our list, it has a mini spotlight for getting those deep and dark areas. It has two different attachments, one for the nose and one for everything else. This is very hygienic and helps to ensure that you don't get nose hairs all over your face!
With Wahl, you know exactly what you are getting as they are one of the most trustworthy brands around. Originating in America and dealing mainly with barber shop clippers, Wahl are very trustworthy. You can be assured that their products are of the highest quality possible and won't break soon after purchasing. Is their nose trimmer as good as the other Wahl trimmers and clippers?
Well yes, we think so and with good reason. It's available at a relatively cheap price and the added attachment makes it a good deal. The only thing that the Wahl nose trimmer may not meet your standard is its looks and appearance. It doesn't have the same sleek design as some of the other trimmers, which isn't the end of the world. As long as you don't mind this, then this would be a great trimmer to choose.
Pros
I like multi use trimmer, so this one being able to use on your nose, ears and eyebrows makes it a good option in my opinion.
 Wahl are an established brand so you can be sure that their products will hold up well over time.
Cons
Maybe this is just a personal thing, but I hate the way that this nose hair trimmer looks. I know, I know – it's a nose hair trimmer, what do you expect? Well, I just would prefer it if it was slightly better aesthetically.
Our Verdict
Wahl are one of the most reliable brands on the market, so this is a great option from them.
Before you purchase
Before you invest in any nose hair trimmer, there are definitely a few things that you need to consider before making a purchase. These would be;
Batteries
This is the main thing that you should consider when you are looking to purchase a nose hair trimmer. Most nose hair trimmers use a single AA battery, which will usually last you a good few months before you have to change the battery. Other nose hair trimmers use AC charging, though this is quite rare. The Groom Mate may be the best option for you if you are looking for a nose hair trimmer that doesn't need any batteries whatsoever.
Multi-Use
The best nose hair trimmer will often be used for one purpose; trimming your nose hair. Though if you are looking for convenience, then it might be worth getting a nose hair trimmer that you can use for other things. These things would be styling your beard or mustache.
Price
Nose hair trimmers aren't really expensive. Hopefully, the difference between $10 won't make too much of a difference for you when you make a purchase. If you have that extra $10 to spare, then it's worth investing in a decent nose hair trimmer.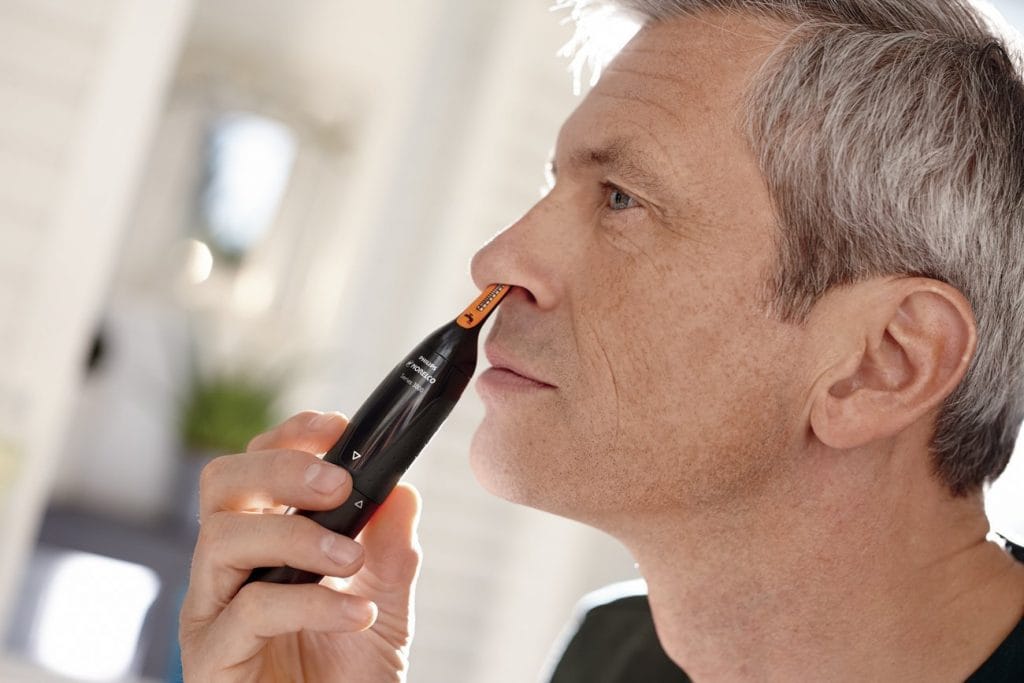 Common FAQs
How do nose hair trimmers work?
It depends entirely on the the type of nose hair trimmer that you're using. If it's a manual nose hair trimmer, then all you need to do is twist the trimmer around. By doing this, the blades will cut your nose hair down to next to nothing.
If it's an electric trimmer, then it isn't too much more sophisticated. Instead you you manually twisting the trimmer, the electric motor inside spins around and creates a twisting effect. Picking between the two isn't too hard, though we personally prefer a manual nose hair trimmer.
How to clean your nose hair trimmer
Whilst we could easily tell you, it's much easier to show you in a video! Check this video for the best way to clean your nose hair trimmer. This is just for manual trimmers, electric ones will usually have a detachable top that you can remove and wipe away the nose hair;
Do nose hair trimmers hurt?
No. This is a common misconception, and a nose hair trimmer won't hurt you. If you use it properly, that is! It's important to be gentle with your nose hair trimmer, as this type of hair is particularly sensitive.
Our Pick – Groom Mate Platinum XL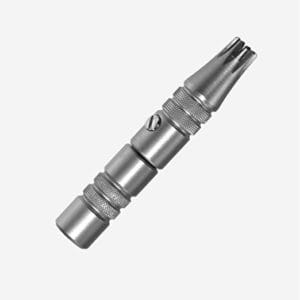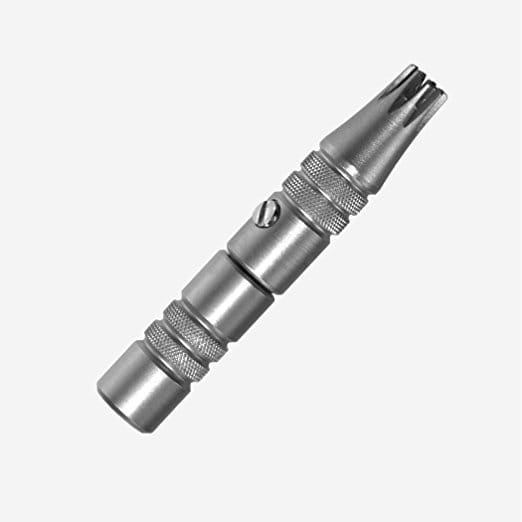 [maxbutton id="1″ url="http://geni.us/lOMz3″]
It wasn't too difficult of a choice to make between the options that we have listed and reviewed. Whilst they are all really great options for anyone looking for a nose hair trimmer, we believe the Groom Mate to be the best option for the majority of people. Why is the Groom Mate the best nose hair trimmer?
Well, you don't need to worry about charging the Groom Mate or have any concern about when the batteries will run out. This is a great bonus to the Groom Mate that you will not get with any other trimmer available on the market. The Groom Mate is a unique design that doesn't appear to have much competition in the market.
It is built with precision and you can tell just by looking at the Groom Mate that a lot of effort has gone in to the design of this nose hair trimmer. Groom Mate are so confident with their product, that they include a lifetime warranty and you can return it if you aren't satisfied. That's what we call a good product, and makes it the best nose hair trimmer.
Amazon and the Amazon logo are trademarks of Amazon.com, Inc, or its affiliates.