As an Amazon Associate we earn from qualifying purchases.
Maintaining your beard is essential. There's really no point growing your beard out longer than a few weeks if you aren't going to maintain it properly, because you'll just end up looking scruffy. To help you maintain your beard, you should look at getting yourself a good quality beard balm or oil.
Whilst it might appear that all beard balms and oils are basically the same thing, you'd be sorely mistaken to think so. For starters, a beard and a balm are very different in their texture. Some people prefer to use both oil and balm, but I prefer to pick one or the other usually – sometimes interchanging them daily.
Different oils and balms work well for different people, so it's probably worth trying a few different ones to ensure that you're getting the one that works best for you. Here are a few of the best beard balms for growth that I've found online.
The Best Beard Balms
Honest Amish Beard Balm
Sale
Honest Amish are one of the better-known brands producing beard balms and their products have a great reputation. Their products are completely vegan friendly and organic, which is awesome if this is something that is important to you. Personally, I prefer to go for organic brands which is why I've suggested this beard balm top of the list.
If you are looking for a balm that will help your beard appear firm, then this one may be a good choice. Balms are a fantastic choice for anyone who has a longer and thicker beard, as it can help control that unruliness that comes with growing a long beard. The ingredients in this balm especially with help your beard to appear thicker and more full. This is great if you deal with gaps in your beard, which can often be an issue if you're a younger guy.
Overall, I'd recommend the Honest Amish to anyone looking for a long-lasting beard balm that won't cost you an arm and a leg.
Smooth Viking Beard Balm
Growing your beard out isn't as easy as it sounds. You'll want it keep it in good health as it grows, which would make a beard balm like this one from Smooth Viking a good choice.
Smooth Viking is a blend of many different premium oils that will benefits the growth of your beard. Avocado, argan & jojoba oils are just some of the oils that this beard balm features to help your beard maintain stable growth and health. If you're dealing with an itchy beard or any form of beardruff, then a balm could make all the difference for you.
If you think you can maintain a good beard with only a comb, then I'd agree. You can maintain a good beard, but for a really great beard you need an oil or balm like this one from Smooth Viking.
Grave Before Shave Balm
Whilst many people prefer to opt for an unscented beard balm, you can always find one with a scent that suits you. If you are after something super manly, then this Grave Before Shave balm may be a good choice for you.
It has a cigar and vanilla scent, which although might sound slightly unusual, it actually works extremely well. It can really work well if you have a long beard and need something that holds your beard in place well, then usually Grave before Shave products offer you a good option. It's made with a nice mixture of oils and butters that will leave your beard feeling rejuvenated.
If you want to keep your beard conditioned, then this would be an awesome choice that will work wonders for your beard.
Art Naturals Beard Balm
Sale
ArtNaturals Beard balm is another good alternative if you have particularly coarse hair and are looking for a solid beard balm.
Whilst the brand isn't as well known as some competitors that I've listed here, they have become more and more popular in recent years. They're better known for bath bombs, where they're one of the more popular brands selling on Amazon.
I like this balm specifically because it helps with itchy face – yes, that's the technical term for it! Itchy face is something that the majority of bearded guys will have dealt with over the years, and it's important to know that you can help soothe your face by choosing a good beard balm like this one.
Can You Handlebar Devotion Dry Oil Beard Balm
Growing a particularly long mustache? Well, then you'll want an accompanying balm that will help you to make your mustache firm and soft.
Can You Handlebar is a brand that works particularly well for your mustache, but it's equally as effective on your beard too. It's completely natural and one of its main ingredients is beeswax, which is made in Michigan. This gives it a slightly different texture than many other balms, and makes it slightly easier to spread; perfect for a long and thick mustache.
If you're looking for a balm that is high in quality and isn't particularly expensive, then this Can You Handlebar balm would be a good option for you.
4 Beard Oils that help with coarse hair too
As well as beard balms, beard oils are actually great to use for coarse hair too. This is because it helps to volumize the hair, making it less dry and more luxurious.
Beard Balm vs Beard Oil – Which is best for me?
One of the most common queries that people have is whether they need to use both beard oil and beard balms, and if they one need one, which one will be the best for them? Well, I always think;?it depends.
Whereas beard oil is used primarily to help moisturize your beard and help maintain it's quality, beard balm is more for aesthetic appearance – although it's filled with some of the same ingredients and will help hydrate your beard as well.
It really is dependant on yourself, but here's a quick round up on what the benefits of both beard balm and beard oils are;
The Case for Beard Balm
 A good choice for longer beards that need taming.
 It's a moisturizer too, but because of it's nature and texture, it will be absorbed into the skin slower. This will suit some people more than others.
 Sounds kinda weird, but I've actually used my beard balm as a normal moisturizer for my face, too. It's similar ingredients and can do the job if you run out of normal moisturizer!
 Depending on the look you're going for, beard oil may not suit you. It does give you a glossy and shiny look which some people won't like.
 It's not as good of a moisturizer as beard oil and won't work as quickly.
The Case for Beard Oil
 Great for moisturizing your beard and is great for growing beards.
 Due to it's moisturizing features, this makes it perfect for helping to avoid itching and dandruff.
 Absorbs into the skin a lot quicker, leaving you with a 'gloss' finish.
 Usually, beard oils will be slightly cheaper than a beard balm (not a guarantee).
The Verdict
Many people prefer to use one or the other, or even both for a more apparent shiny finish. This is best suited to longer beards and will ensure people know that you take good care of your beard. If you're just beginning to grow your bead out, you should probably opt for a good beard balm.
Applying beard balms and oils properly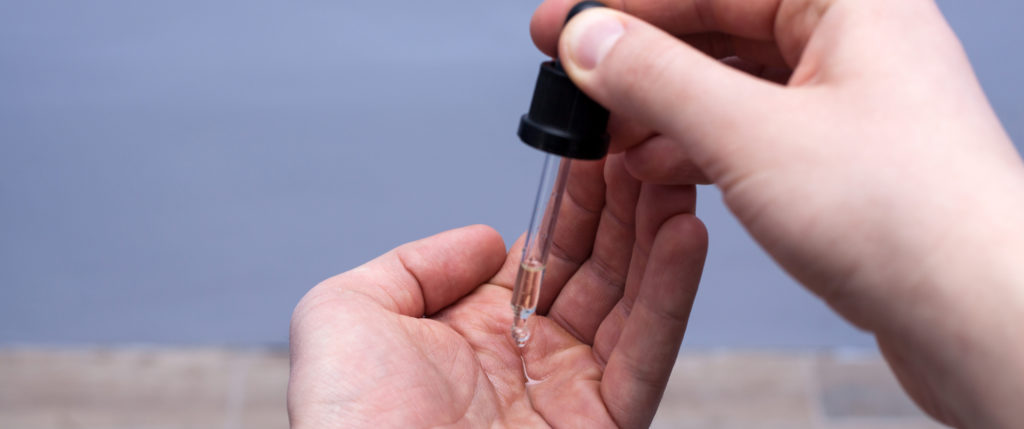 Whilst it's important to know how to apply beard balms and oils properly, it really isn't rocket science like some make it out to be. Once you've squeezed a few drops of beard oil into your palm, apply it thoroughly through your whole beard. Likewise with a balm, get a small amount into your fingers and massage it into your beard slowly.
The main thing to ensure is that you cover your entire beard. This is important, especially if you have a longer beard that needs more attention and care than a shorter beard. Once you've massaged the oil or balm in properly, it can be a good idea to use a comb to help run the moisutrizing elements of your product through your beard properly.
When should I apply these products, though?
Ah, now this is a good question. For a beard oil, it's best to apply it as soon as you leave the shower. This is so the moisturizing elements can do their work whilst your skin is clean and your pores are fresh from dirt.
For a balm, you can wait until your beard is entirely dry before application. This is because a balm is better for styling your beard as well as moisturizing it.
Conclusion
Hopefully, this has helped you consider some of the best beard oils and balms currently available. You don't need to spend lots of money to ensure that you are getting a good product, so don't worry if you're on a budget as there's an option here for you.
Amazon and the Amazon logo are trademarks of Amazon.com, Inc, or its affiliates.