As an Amazon Associate we earn from qualifying purchases.
So, you're growing a beard. Or, perhaps you've had a beard for a while, but your trimmer isn't doing what it's supposed to. Ever had it where your trimmer pulls the hair out sharply, causing you to squeal in pain? If you haven't, then trust me, you don't want to. If you invest in a cheap and low quality beard trimmer, then the likelihood of this happening is pretty high. That's why you need to find the best beard trimmer for short beards. And we're here to help!
A good beard trimmer is the most important thing for any bearded man, more so than any oils or balms. There's a very fine line between looking like a homeless person and looking like a Greek God.
And lets face it, the likelihood is you probably don't look like Hercules. Hey, there's nothing wrong with that, we don't either. But, the point is this. A good beard can be the difference between an average man, and a handsome one. A good beard is synonymous with power. But, it has to be the right beard. The perfect beard. And what do you need for the perfect beard? Yep, you guessed it. The best beard trimmer known to man. But where do you start on this venture into finding the best beard trimmer? Well, whether you're fairly new to growing a beard or you're an established beard-sketeer, we're here to help you decide on what the best option is for you.
Best Beard Trimmer – Top 10
Sminiker Professional
Sminiker Professional Hair Clippers Cordless Barber Shavers Rechargeable Hair Cutting Kit with 1 Hairdressing Cape 2 Scissors 9 Comb Guides
Hair Clipper:Heavy-duty gear for proper powerful cut, with stable and steady control. The R shaped rounded edge design prevents from accidentally hurting skin.
Clippers:Titanium blade combining with the ceramic movable blade for efficient and long term cutting. The titanium blade of the hair clipper will not get rusty. It always keeps sharp and ensures...
Self Hair Cutting System:New user friendly, we provide3-6-9-12-15-18mm guide combs. Now you can easily adjust the combs to the proper height. With leveled combs, you can easily trim hair perfectly...
Whilst most people will recommend brands like Philips and Remington because they've been around the longest, this doesn't necessarily make them the best. I recently purchased this relatively cheap beard trimmer from Sminiker, and was pleasantly surprised with the results.
Whilst it's only a fraction of some of the more expensive beard trimmers – cough Norelco – the Sminiker professional initially feels like a top quality beard trimmer. It has a high class finish, and although it's not particularly heavy, this makes it a good choice for those looking for a lightweight beard trimmer.
One of the main things I like about the Sminiker is that it goes quietly about it's business. As oppose to older beard trimmers I've had, it's really quiet. This is pretty important if you're shaving regularly and you're not at the liberty to wake up everyone else in your household!
With the Sminiker Professional set, you're really getting the whole package. It comes with an abundance of different attachments and scissors, so it's worth considering this one if you're looking for one of the best budget beard trimmers around.
Philips OneBlade Pro
If you want to spend a little more than with the Sminiker, then you could look at the Philips Oneblade Pro. Most men dream of a trimmer that can do pretty much everything – if that's you, then the Oneblade is going to be a pretty safe choice.
The Oneblade does pretty much everything that you could ask it too – it's perfect if you like a close shaven face but aren't looking to use razors regularly. The shave itself isn't better than the regular Oneblade, but with the Pro you're getting more trimmer attachments so you can create a neater beard. You're also going to get far more battery life in the Oneblade, so that's a another thing that's particularly useful.
Another reason that the Oneblade might suit you is that it doesn't cut as close to the skin as with other beard trimmers. This means that you're far less likely to experience irritation. And if you have sensitive skin like me, then it's undoubtedly worth looking at something like the Oneblade. Overall, this is one of my favorite Philips trimmers and something that you should undoubtedly factor into your decision, depending on budget.
Babyliss iStubble
ConairMAN i-Stubble Cordless Ultimate Flexhead Beard Trimmer for Men
Flexhead Stubble Trimmer: The ConairMAN i Stubble features floating head and advanced blade technology to trim stubble, beards, mustaches and goatees with accuracy and comfort; 15 electronically...
Precision and Power: The ergonomic handle makes this trimmer easy to hold and use; The i Stubble's ultra precise electronically controlled length settings allow you to maintain your facial hair style...
Respect The Ritual: Don't crack under the pressure to look good; ConairMAN has beard trimmers, home barbering kits, electric shavers and more for precision cuts and trims so you can get your look...
Edit: I've had readers email me saying that whilst they loved the old iStubble, the newer models aren't what they used to be. Essentially, quality has apparently declined since they were originally released years ago. So, make of that what you will.
The Babyliss iStubble, or Conair (their parent company) iStubble, is one of the more popular stubble trimmers in an increasingly competitive market.
The iStubble is a good choice for those looking for a range of different attachments. If you like to style a relatively short beard, then the iStubble is likely going to be a good choice for you. However, it's not that well suited to long beards, so if you have a big bushy beard then you might want to look at a different beard trimmer.
Overall, with it's abundance of different attachments and strong motor, the iStubble could be a good choice for the majority of guys.
TRYM II Rechargeable Modern Hair Clipper Kit
The TRYM II (or ii) is by far the most attractive beard trimmer that you will find on the market. Coming with a self described 'apple-esque' style, it's sure to look good in your bathroom. Its sleek design is definitely not the only thing to take from the TRYM, however. It has many other qualities that you're sure to love.
It's on the cheaper side of the beard trimmer spectrum, that's for sure. There are many other beard trimmers out there at this price, which puts it in a pretty good position as it's half the price of some other beard trimmers you'll find. It comes with four different attachments, which are handy for grading down the sides of your beard if you wish. Charge wise, you need to charge it for 8 hours to get it to full charge. This isn;t too bad, as you could just leave it on overnight. After a full charge, it's going to last you anywhere in the region of 90 minutes, possibly longer if you're extremely lucky.
It's also good if you want to use it for other purposes. It isn't actually designed as just a beard trimmer, though we've included it in this list as this is what we believe it to be best at. You can also use this for your head if you wish, though we advise you to get a separate head shaver for that use. Check out a more in depth review of the Trym ii here.
Philips Norelco Beard Trimmer Series 7200
The Norelco brand had been the most popular brand for beard trimmers for a while now. They've released multiple different series, but in our eyes the Philips Norelco 7200 is the best of the bunch by a mile.
It has 20 length settings, which are controlled by a little zoom wheel which is situated on the side of the trimmer. You can set the trimmer length to anywhere between 0.5-10mm in increments of 0.5, so it's far more advanced than any of the other beard trimmers in our list.
It comes with a Lithium-Ion battery, which is another massive bonus that some of the other trimmers in our list don't have. You won't need to charge this beard trimmer overnight at any point; you can charge it for just an hour and get 80 minutes use out of it. 80 minutes! This might not seem like a lot, but it will help to save time when you're in a rush.
In general, what might make this the best beard trimmer is just the high quality manufacturing. There really isn't anything that Norelco have missed out. With self sharpening blades, you never need to worry about bluntness. The attachments are waterproof, so it's easy to clean. It even has a vacuum system that collects the majority of the hairs that you shave, making for a lot less mess around the bathroom sink.
The only thing that may put you off is the price tag. It's a tad extra when comparing it to other beard trimmers in the market, but we believe it to be worth it. Aside from that, there really isn't a bad word to say about the Philips Norelco 7200. It has everything that you could ever need in a beard trimmer. Click here for a user review.
Remington PG6025 All-in-1 Grooming Kit
The Remington PG6025 is an attractive, lightweight beard trimmer that has been around for quite a while now. Aside from the Philips Norelco, Remington are another of the most reliable and known brands that you can invest your money in.
While the Remington 6025 doesn't have the same high quality feel as a more expensive beard trimmer, it can still certainly get the job done. With 3 beard and stubble combs, it's great for beards of any length.
The main reason that the Remington 6025 made it into our list is that we feel it's a great option if you're on a budget. It's a multi use trimmer, which means you can use it for several things as well as trimming your beard. It's also a nose and ear trimmer, which combines the need for two separate trimmers.
In an ideal world, you would purchase a high quality beard trimmer and a high quality nose hair trimmer. Unfortunately, this isn't always possible. And when it's not, the Remington 6025 is certainly the next best thing. Make your own mind up by checking a more in depth review.
Braun BT3020 Beard and Hair Trimmer for Men
Sale
Series Bt3020
20 precision length settings in 0.5mm steps from 0.5-10Mm for ultimate precision
The Braun BT3020 is one of Braun's bestselling beard trimmers, which also doubles up as a hair trimmer. Unlike many of the other options which claim multi use but don't live up to the hype, it actually works decently at both of these. If you're looking for something to use for both your beard and your head, then this could be the best beard trimmer for you.
It's available at a relatively cheap price which will suit almost any budget. In our eyes, this is the perfect trimmer for anyone looking for something easy and simple. It won't win any awards – actually, it was one of the best selling shavers a few years ago, but Braun's market share has since declined – but it's a solid shaver that you're unlikely to have any issues with. Braun are still a major player in the electric shaver game.
The main issue with the Braun is actually the charge time. For a whopping 10 hours of charging, you only get around 40 minutes of actually shaving time. This is relatively poor in comparison to other beard trimmers, and will exclude it as an option for many. If you can get past this however, then this is a fantastic option as both a beard trimmer and a head shaver.
Panasonic Wet and Dry Electric Shaver
Panasonic Wet and Dry Cordless Electric Beard and Hair Trimmer for Men, Black, 6.6 Ounce
The ER-GB370K Men's Electric Hair Trimmer uses durable, ultra-sharp trimmer blades that are precision honed to a 45 Degree angle for superior performance
A quick adjust dial provides 19 individual trim settings in 0.5 mm increments from 1mm to 10mm for smooth, precise trimming, detailing and cutting
Lightweight, ergonomic design with rubberized grip for total comfort and control
With a 6 hour charge time to 60 minutes of battery life, the Panasonic Wet and Dry shaver is great for anyone looking for shave wet and… well, dry. Some shavers struggle to shave wet hair, but the Wet and Dry is designed to glide right through that matted beard rug.
Its smooth teeth with make for a very easy shave, especially for those looking for an 'all-over' shaver. Whilst it doesn't appear to be as good for you hair as it is for your beard, it's great if you want to use it in… other places. I'll let you decide what 'other places' you want to use the Wet and Dry, but yeah.. you get what I'm trying to say. You can use it for your pubic area without worrying about cutting your todger, okay.
Now, let me say there is one issue with this almost fantastic beard trimmer. The charger is weird. It's just really, really weird. It's wall mounted, which means that the shaver stands on the plug when you plug it into the wall. Yeah, I know. Why Panasonic couldn't just give it a regular wire I don't know, but they haven't. If you can deal with this aspect of the shaver, then you're going to get one of the best beard trimmers available on the market. But if you can't deal with a weird wall mounted charger, then well, we don't blame you. If you need more info, have a look here.
Honourable Mentions
As well as the top 5 listed, here are a few honourable mentions that almost made it.
Remington PG6171 The Crafter Kit
The Remington PG6171 has by far the best battery of any of the beard trimmers that we have listed. It can take a fair while to charge, but when it's fully charge you will get anywhere up to 3 hours of shaving. This is pretty amazing when you compare it to the other trimmers available that struggle to last for an hour. It's especially good if you're travelling and don't have time to charge your trimmer every week. It's also especially good if you're forgetful and never, ever seem to remember when to plug your things in to charge (I'm speaking from experience here).
The quick charge feature is also something that may come in handy for many of us forgetful users. By charging the shaver for just a quick five minutes, you can get one full shave out of the PG6171. So, if it's run out of battery completely, you don't need to wait forever for it to get to a decent level of battery again.
Whilst it might not be as attractive as the other beard trimmers, it has a certain subtlety that will enable it to fit into pretty much any bathroom. Anyway, does anyone really care what their beard trimmer looks like? Okay, I kinda do, and so do many others. But if you don't, this is a pretty great option. More about the 6171 here.
Gillette Fusion Proglide Styler 3-In-1
The Gilette Styler is a great budget buy. It works wonderfully for short to medium length beards, but for a longer beard, you're probably best looking elsewhere. As stated, it's a styler. It's not amazing for hacking through an uber beard, but it can do the trick to tame a neat work beard.
It runs on AA batteries, which will suit some people more than AC charging, especially if you're travelling for long periods of time. It's the smallest shaver dimensionally in our list, which again reinforces its position as one of the best beard trimmers if you're travelling indefinitely.
With the looks and design of this trimmer, it's no surprise that many people buy it for their nether regions. How can I put this without sounding too crude? It's fine for shaving your Mario, it'll shave right down almost to the skin. But when you shave your Luigi's, you should definitely leave one of the guards on. Without the guards, you're exposed to cuts and nicks and well, nobody wants that. Check a more detailed review here.
Wahl Lithium Ion Stainless Steel Groomer
Wahl Clipper Stainless Steel Lithium Ion Beard and Nose Rechargeable Trimmer for Men, Detail Shaver, All in One Men's Grooming Kit - Model 9818A
Complete grooming system includes 3 multipurpose attachments are perfect for all facial hair styles: T-Blade Rotary Personal Trimmer Detail Trimmer; For touching up haircuts trimming ear & nose areas...
Self-sharpening precision blades include patented technology for superior cutting for all hair types & lengths; The blades are long lasting for quiet performance for outstanding performance in a hair...
Cordless rechargeable beard trimmer for men is equipped with a long-running lithium-ion rechargeable battery that lasts up to 6 hours on a full 1 hour charge and has a 1-minute quick charge for 3...
Last in our list, but certainly not least, is the Wahl Lithium Ion Groomer. It's the most expensive beard trimmer in our list by quite a bit. Is that validated? Well, yes. Yes it is.
Firstly, there's no worrying about whether you beard trimmer is charged. This beauty last for anything up to four hours from just a one hour charge. Again, it's the lithium battery that we have to thank for this, and Wahl are using it to a great advantage. If you do magnificently manage to let it run out of charge, then you can get a full shave from just a one minute quick charge. Pretty good stuff.
The trimmer itself is great, and unlike other beard trimmers, it sustains the same power throughout it's entire battery life. Some beard trimmers will start to fade at about 50% battery life, but no, not the Wahl Lithium. It'll carry on right 'til the death!
People will pay more money for added service. It's a fact. Would you rather buy something from a more reliable and customer service based company than something that is just shipped in from China and resold, with little to no thought for customer service? Well, then the premium price on this Wahl Groomer shouldn't put you off too much. Wahl are a great brand with a reliable, proven customer service. In our eyes, an extra 20-30$ shouldn't put you off this great product.
How to Trim Your Beard Properly – Beard Trimming Guide
We all know that unkept beards affect your entire look; with the right care, beard grooming can change you from homeless to Greek God. This is why it is important to ensure you trim them well to make you look more presentable.
Trimming your beard is not as hard as you might think. All you need is to understand how to do it effectively. It is a simple process you can undertake using a good electric shaver and other items. To assist you in the process, here is a step by step guide on how to trim your beard properly.
Checklist of items you need. Some of the items you require include a;
beard trimmer
beard comb or brush
With these items you are now ready to start the beard trimming process.
Step 1 – Decide on the beard style
There are several types of beard styles and each of them requires different kinds of trimming and tapers. The first thing is to understand the style you want to attain. This helps you understand how to begin the entire process and the tapers you require. Consider a beard style that is appropriate for your face. There are different resources where you can learn the style that is right for your specific face.
Step 2 – Shave your beard as you do normally
Shave your beard as you do normally. In this step, you need to clean up all the areas that you would as you do the normal shaving. This helps you have a good foundation as you begin doing the trimming and find it easier.
Step 3 – Dampen the beard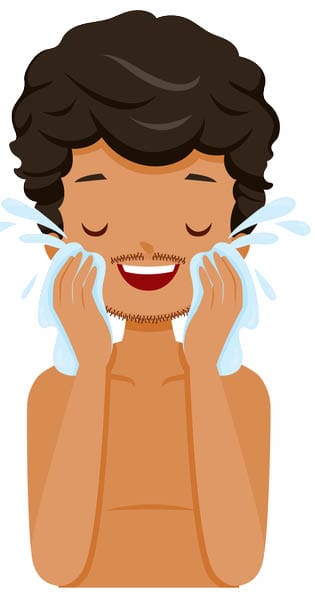 With the right beard style and having done the normal shaving, you should the wet your beard. You should not soak, just wet the beard lightly to make it easier to shape and mold.
Step 4 – Begin with your cheeks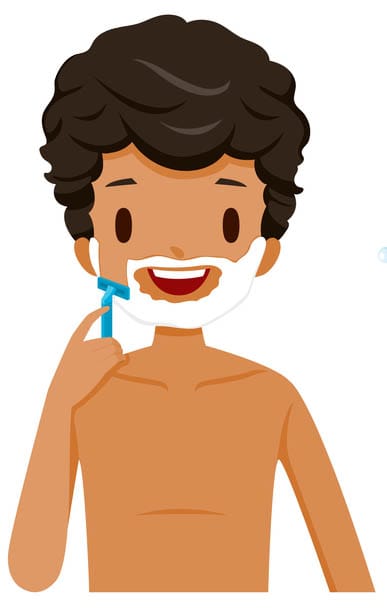 Keeping the style that you want to have in mind, start by trimming your sideburn area and cheek. If you do wish, you can start the tapers. Ensure you carry out test patches, in order to understand the attachment size that will result and in what hair length.
Step 5 – Move to your jawline
Now move to your jawline To attain the right beard shape, you should never forget your jawline. You should make sure you have an even trim. Be precise and take your time, so that you attain the best trim.
Step 6 -Rinse and apply the right beard balm and oil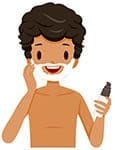 After you have attained your trim, you should rinse it off in order to get rid of unwanted hairs that might cause irritation afterwards. After rinsing, it is now time to apply the right beard balm or oil to give your beard the right shape. The oil is vital in making your beard look lustrous and soft. In addition, it also prevents beard damage and makes your beard healthier. Bottom line? As you can see, beard trimming is a simple process that requires little time. By just following the above steps and having the right essentials, you can manage to have well trimmed beards that will not only prove your look, but self esteem too.
What to consider before purchasing
Before purchasing a beard trimmer, there are a few things that you should consider to make sure that you get the very best beard trimmer that you possibly can. These include;
AC Charging
Most of the beard trimmers that you will find nowadays are AC charging. This is so that they can get a sufficient amount of power through to the trimmer itself.
Trimming Attachments
Whilst many people never even use the trimmers, they are actually an extremely important part of the beard trimmer set up. If you have a vast array of different attachments and lengths, then you can try them all out before you decide on which one looks best for your beard.
Charge Time
This won't matter too much, but it isn't ideal having to plug your beard trimmer in overnight to charge. If you look for a beard trimmer with a lithium-ion battery, this will mean that it has a much shorter charge time.
Battery Life
Again, this is down to preference. If you think you can handle a beard trimmer going off after just half an hour then that's fine. But we have a few options in our list that will last several hours before you have to charge them again. If you feel like this might be something you need, then it's worth investing in a better quality beard trimmer.
Price
Hopefully, price shouldn't come into the equation too much. Most beard trimmers are only within $20-30 difference from each other, and for that amount of money, it's probably worth paying that little bit extra to get yourself a decent quality beard trimmer.
Our Pick – Philips Norelco Beard Trimmer Series 7200
It was a tough call between the Norelco 7200 and the Wahl Lithium Ion as they're both pretty amazing beard trimmers for the price. You could almost flip a coin between the two beard trimmers, they're that close in their quality.
For us, the Wahl Lithium Ion is actually the more attractive beard trimmer. If you're looking for a professional looking beard trimmer that will look great in your bathroom, then the Wahl is probably your best option. Though in all honesty, we aren't that concerned with the appearance of our beard trimmers which is why we chose the Norelco.
What put the Norelco ahead for us very slightly was that has pretty much everything. The intergrated vacuum system is great and comes in super handy to help reduce the amount of hairs that are produce when you're shaving. You can use the Noreclo whilst charging which is handy, and you get well over an hours use for an hour charge. This is pretty impressive, and is more battery than you will ever really need. It is also very slightly cheaper than the Wahl (at the time of writing, anyway).
Check out this in depth vid for a more comprehensive review;
In all honesty, you wouldn't go wrong with any of the beard trimmers in our list. We've crowned the Norelco the best beard trimmer, but they're all pretty handy tool and we're sure that any of them would be a welcome addition to your grooming kit.
Amazon and the Amazon logo are trademarks of Amazon.com, Inc, or its affiliates.